Here are the headlines for today. Check back soon!
This post could be updated at any time throughout the day.
---
The body of the good Samaritan who was killed Friday while helping a stranded motorist won't be laid to rest until a judge can determine who has the right to bury him.
More >> Parents, CPS battle for burial rights to former foster child killed in Garland crash
-------------------
Rhode Island's child welfare agency will be the subject of a House Oversight Committee hearing later Thursday. The state Department of Children, Youth and Families is under scrutiny for its handling of cases involving vulnerable children.
More >> Oversight Committee To Address DCYF's Progress In Handling Of Children's Cases
----------------------
The first people the state dispatches to the homes of potentially abused and neglected children in Palm Beach County are overworked and in some cases cutting corners, data show.
More >> Florida's first responders to child abuse overwhelmed, inexperienced
-----------------------
When the United Nations was deliberating on the Convention on the Rights of Persons with Disabilities my friend, disability rights activist Robert Martin, proudly spoke of his own intellectual disability.
More >> Paul Gibson: We should be saying sorry to our Stolen Generations
----------------------
The B.C. government is being sued over allegations that a girl was wrongfully apprehended from her parents and then abused after being placed in foster care.
More >> Agency sues B.C. gov't after girl allegedly wrongfully apprehended, then abused in foster care
-------------------------
Five words in Ohio law may force a Tennessee couple to give back a Butler County boy they legally adopted as a newborn two years ago to the boy's presumed biological father.
More >> Ohio Supreme court ruling puts adoption of toddler in limbo
-----------------------
Ideally, in America, people would not be punished simply because they are poor. And yet we know the reality is that many systems and structures in society are designed so that people with money and influence can navigate life in ways that allows them to escape certain forms of punishment. This has been well documented in many instances like bail reform, punishment of the Wall Street bankers who helped create the 2008 economic crisis, and our current president, his son, and son-in-law who have clearly colluded with Russia to influence the outcome of the 2016 presidential election—despite their claims to the contrary.
More >> The new 'Jane Crow' in the foster care system separates children from their poor mothers
------------------------
A FOSTER brother of slain Brisbane schoolgirl Tiahleigh Palmer has admitted lying to police and a corruption watchdog during the investigation into the 12-year-old's death.
More >> Murdered schoolgirl Tiahleigh Palmer's foster brother admits lying during investigation
---------------------------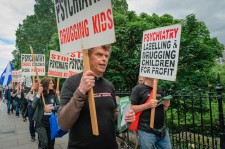 Edinburgh, Scotland - Citizens Commission on Human Rights UK (CCHR UK) protested the Royal College of Psychiatry Annual Convention in Edinburgh carrying signs reading, "Stop Psychiatry Drugging Kids" and "Childhood is NOT a Mental Disorder."
More >> Psychiatry Drugs Children for Profit, Protestors Say